It was a successful year for YELLO Equipment™ at the SC&RA Crane & Rigging Workshop, one of the industry's foremost crane and rigging events. 
Held 26-28 September in Oklahoma City, OK, the Workshop brought together more than 600 of the industry's leading managers, owners, legal experts, managers, distributors, crane operators, and operations personnel. YELLO Equipment™ occupied one of the 82 booths in the Exhibit Center, offering us the opportunity to connect with many industry professionals.

Displaying our Maeda MC285CB battery-powered mini crane attracted a lot of interest to our booth. "The crane was a hit," said Randy Hoffman, Cranes Sales Manager. "As the only company with equipment on display, it certainly made an impact. People could get up close and personal with one of the greener models in our fleet and learn the many benefits of battery-powered cranes."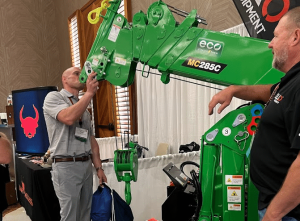 The networking and educational opportunities at the Crane & Rigging Workshop were a stand-out for YELLO™. "It was a terrific opportunity to connect with fellow industry professionals and to take advantage of the many education sessions afforded SC&RA members," said Randy. "Attending the awards section of the event was also interesting as we were able to witness the diversity of projects being completed in the areas of cranes and rigging, and the range of equipment used, from mini cranes like our Maeda range, right through to 700t cranes. We'll certainly be returning next year." 
After such an amazing event, we look forward to attending the SC&RA Crane & Rigging Workshop 2024!