We regularly receive feedback from customers about the extensive range we have within our SANY fleet.Choosing the right machine is a big decision, especially with so many options available. Getting the right machine for the applications you require is vital. That is where the team at YELLO™ are here to help!
The machines sitting in the middle of our fleet are proving to be extremely popular thanks to their flexibility, diverse application and exceptional value. Three machines in particular are ticking boxes for our customers and seeing an uplift in deliveries. The SY80U, SY135C and SY155U are all impressive machines in their own rights. Allow us to take a quick deep-dive into each of them:
SY80U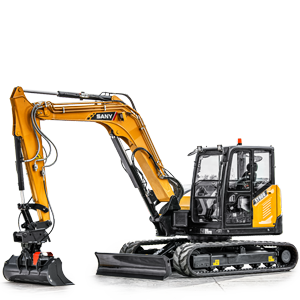 Sitting within our compact hydraulic excavators, this machine is a mighty addition to your construction fleet. Launched in Australia in 2021, the SANY SY80U was a highly anticipated machine from the SANY fleet thanks to the long list of features and possible applications it was designed for. Since arriving on our shores, the SY80U has lived up to its reputation and quickly become a go-to machine for those looking for a reliable, robust machine.
The SY80U is an ideal choice for road and line construction, work on bridges, redevelopment in urban housing construction and landscaping. The applications are endless thanks to its 9T limited swing, powerful Yanmar T4F engine, load sensing hydraulic system and reinforced boom, arm, swing platform and undercarriage.
Within the cabin of the SY80U, you will find a comfortable cockpit with heating and AC for all-day operation, ergonomic seating, convenient gear changing on the blade lever and joysticks with 2 proportional control circuits that are also part of the standard equipment.
For more information on the SY80U, give the team at YELLO Equipment™ a call and we will gladly assist with your earthmoving requirements.
https://www.yelloequipment.com/product/sany-sy80u/
SY135C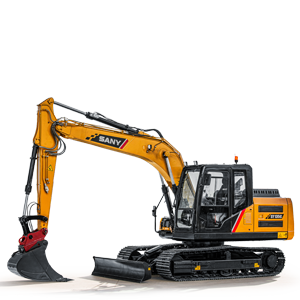 Our Medium Excavator range starts to introduce some of the bigger machines of the fleet. These units are the perfect mining excavators and move earth with ease.  If you are looking for efficiency, safety and performance, we have you covered!
The SY135C is our 15T excavator combining power and performance. Perfect for baulking out and delivering on large earthmoving requirements, it is both versatile and delivers an impressive performance. The universal machine is outstanding at digging, crushing, loading and backfilling. Perfect for use in places where space is limited such as road and canal construction, inner city areas, horticulture and landscaping and of course demolition work. Its power allows it to reach high excavating forces which would otherwise only be possible with a significantly bigger machine.
A real benefit of the SY135C is its astonishingly large operating radius. Many of our customers recognise what a huge time saver this is since the machine therefore needs to be moved far less often on the construction site. When time equals money, this is a big drawcard.
Would you like to learn more about this machine? Give our friendly team a call and they will gladly talk you through the features specific to your discipline.
https://www.yelloequipment.com/product/sy135c/
SY155U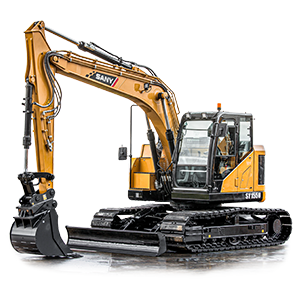 This machine is no stranger to the market with extensive media coverage since its launch earlier in the year, thanks to the high demand and anticipation for this new model. This 16T machine was built using the feedback of experienced operators to ensure it delivers maximum comfort and efficiencies.
The SY155U is a top contender in the high performance civil machinery category. Powered by a reliable and efficient Isuzu engine, the SY155U is easy to transport, can be street ready with bolt-on rubber pad option, comes with minimal tail swing and delivers reliable, high performance day in day out. It is a welcomed addition to our already robust and versatile fleet of quality machines.
With a range of attachments also available, the SY155U allows operators to dramatically reduce the time it takes to change work tools providing convenience and flexibility in the field. This machine is a serious performer and we encourage you to give us a call to learn more.
https://www.yelloequipment.com/product/sany-sy155u/
YELLO Equipment™ truly has the earthmoving machine you are looking for. In addition to these three impressive models, YELLO™ has over a dozen different machines of varying weight class and application available within our fleet. We are committed to matching you with the machine that will make your life easier, more efficient and more productive.
YELLO™ also offers finance options, exceptional warranties, first class customer service and an ongoing service and maintenance program.
For more information, give us a call on 1300 093 556 or send your enquiries here.