Mini Excavators are a hot item in Australia. These small yet powerful machines are a true 'must-have' piece of equipment for a lot of building and construction contractorsdue to the sheer number of tasks they can tackle. Our fleet of SANY Mini Excavators tick all the boxes delivering a high quality build, extensive features, excellent durability and significant value to the owner.
YELLO Equipment offers a full range of Mini Excavator options with 4 models spanning from 1.7T – 3.8T. Each model is versatile, compact and packed with power. These multipurpose machines are perfect for a range of trades and applications delivering across a broad range of disciplines. Allow us to 'dig into' each of the models in our range to showcase their key features …
SANY SY16C – 1.7T EXCAVATOR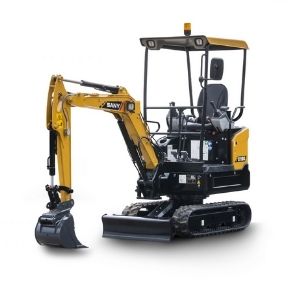 The SY16C has been a stand out machine given its very attainable starting price for those entering the market. Packed with features such as battery isolator, LED lights, E-stop and hammer piping as standard and its ability to access tight areas with its adjustable track frame, the SY16C is reliable, light-weight and easy to transport.
Measuring just 980mm in width, this machine easily fits through narrow passages and competently gets into hard to access places reducing man-power and time requirements. An ideal solution for garden or landscape construction or for work directly on or in existing buildings, the SY16C will quickly become your go-to, trusted machine.
https://www.yelloequipment.com/product/sany-sy16c-1-7t/
TOW & GO PACKAGE
YELLO Equipment has taken the SY16C and taken it up another level. We have created the perfect pack giving you all the essentials to ensure you get to work easily and efficiently.
Each Tow & Go Package includes:
The SANY SY16C 1.7T Mini Excavator
Sureweld SW2600 Plant Trailer
Manual Quick Hitch
3 Bucket Pack (300mm & 450mm GP and 1000mm Mud)
5 

Ye

ar/5000hr Warranty
Give the team at YELLO Equipment a call to find out more about this awesome pack. Machines are in stock and ready to be delivered!
SANY SY26U – 2.6T EXCAVATOR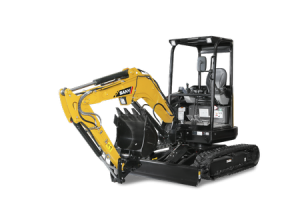 Our SANY SY26U is small yet powerful and highly practical for working in small spaces. This compact powerhouse is the perfect tool whenever power and manoeuvrability are required.
Built with a powerful Yanmar T4F engine guaranteeing a reliable performance, a strong reinforced structure to improve stability and load-sensing hydraulic system for outstanding efficiency, this machine is a true 'all purpose' machine within the fleet. The SY26U also comes packed with SANY PLUS Advantages including a quiet and low-vibration engine, responsive, precise control, ergonomic, comfortable seat, optimal visibility on all sides and a heater for operator comfort all year round. This machine really delivers bang for buck and is hard to look past once you see the full list of inclusions and benefits it delivers.
When manoeuvrability, power and value matter … this is the machine for you!
https://www.yelloequipment.com/product/sy26u/
SANY SY35U – 3.8T EXCAVATOR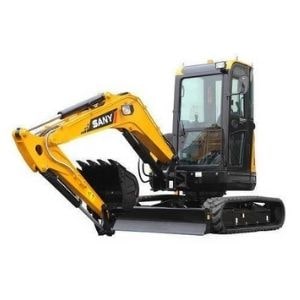 The SY35U stands out in the crowd thanks to its versatility.  Offering countless types of application outside of its usual operation of digging, this machine can do so much. A recent customer described how much of a workhorse his SY35U is on his farm, playing a large roll in bale stacking, mowing, mulching and small forest jobs, just to name a few. With an array of attachments that quickly adapt this machine to your environment and tasks, the SY35U will be your new best mate.
Featuring the latest noise-reduction technology that ensures quiet operation, a robust and durable build, short tail-swing and exceptional power performance, we encourage you to come and take a look at this machine for yourself.
https://www.yelloequipment.com/product/sy35u/
YELLO EQUIPMENT is confident we have the Mini Excavator for your needs. With so many features and benefits across the various models in stock, we will provide you with an honest and informative appraisal of which machine will best fit your individual needs.  Give the team a call on 1300 093 556 or send your enquiries here